Lumintop BLF GT90 Luminus SBT90.2 7000LM 2720m Thrower Flashlight
Regular price
$349.00 USD
Regular price
Sale price
$349.00 USD
Unit price
per
Specifications 
Emitter:  Luminus SBT90.2 ,5700K, mounted on copper DTP MCPCB 
Flux:  >5500 lm  
Intensity:  >1850 kcd (ANSI throw >2720 m)  
Firmware:  Tom  E's  open-source NarsilM v1.3 adapted by Texas_Ace  
User interface: 
[1] By default the GT90  is set to use the very intuitive Narsil smooth RAMPING UI. Instant access to a 2.5 A TURBO mode is also provided.  
 [2]  A more conventional discrete level MODE-SET UI is available as an alternative. Anyone of 12  pre-defined mode-sets can be selected. 
 [3] MOMENTARY mode is useful for signaling purposes or rapidly/briefly lighting up targets. 
Battery:  Four or eight button-top unprotected 18650 cells (4S1P  or 8S1P).  protected cells not fit.  Cells are not included. 
Driver:  Texas Avenger V2 
Reflector:  118 mm inner diameter, aluminum, smooth finish 
Lens:  Glass with anti-reflective coating 
Body:  Aluminum with Type III hard-coat anodizing 
Tripod socket:  Standard 1/4 inch threaded  (1/4-20 UNC) 
Button:  Tactile with back-lit rubber boot  
Ingress rating:  Equivalent to IP65, do not immerse in liquids 
Weight:  Approximately 1.8 kg without cells 
Dimensions:  135 mm Ø head x 315 mm length 
GT90 uses free software distributed under the terms of the GNU Public License version 3
GT90 Anduril code from toykeeper/flashlight-firmware
Package include: 
1 x BLF GT90 LED FLASHLIGHT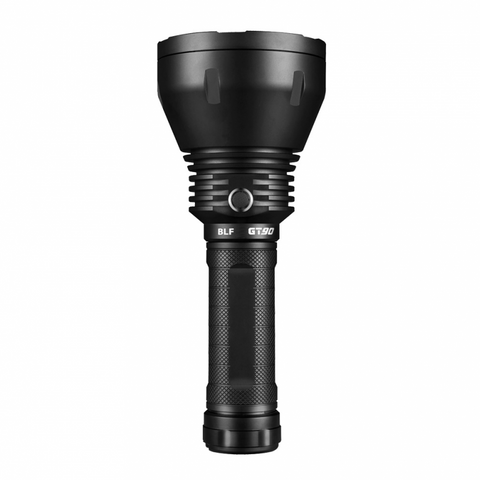 Share